How to solve window 7 "not genuine" problem.!!
This situation occurs when u activate ur windows very late after installing or u use pirated versions nd update ur windows . u rieceve a message that get genuine copy of microsoft windows this version will expire with in few days. so here is the solution of your problem.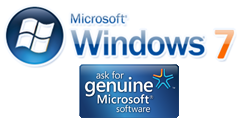 Follow these simple steps nd u r done:-
1.  

 
Open Command Prompt which is in Start Menu , All Programs , Accessories but you must run as administrator (right click nd run as administrator).
2.  

 
Then simply type in this command:
slmgr -rearm
Within a few seconds you'll normally see this dialog show up, saying that the command has completed successfully, at which point you'll want to reboot.
Now don't panic you will still get the not genuine message at start up but it shouldn't be in the corner

 
of your desktop anymore.
So,checking the system properties again shows that you now have so many days left to activate.




3.   Now run the Windows 7 Loader by right clicking and run as administrator (here is link to Loader) 

Windows 7 Loader.rar

Then just leave the loader on Default mode and click install…
4.   Now once you click install it will disappear don't worry it will take a minute or 2 then tell you to reboot.


Also if you wish you can tick the advanced options and select your pc's make for serial and certificate's but it's not a necessity.
5.   Now once you get the message telling you to restart your computer simply click ok and let the system reboot.


And your all done your system should be fully activated.
thanx for reading .comment if u got any query.